Return to Hormann Industrial Sectional Doors home - Windows - Colours - Gear Types - Safety Details
Hormann SPU F42

(previously SPU40)
The Hormann SPU F42 is a high quality sectional door perfect for use in industrial heated buildings thanks to a strong layer of galvanized steel and multiple other high quality material including CFC-free Polyurethane.
The Hormann SPU F42 is the door manufactured for applications that are thermally heated. With a resolute insulating core, a good thermal insulation value is permanently ensured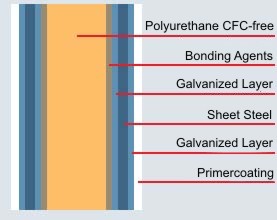 The SPU F42 is encompassed with 42mm thick double-skinned sections. The resolute insulating core of 100% CFC-free (that means it's good for the environment!) polyurethane rigid foam fashions an exceptionally good insulating value.
The architecture of the door sections is designed to guarantee supreme cohesion and utmost robustness. The substantial insulating core of high-grade Polyutherane rigid foam is implemented precisely in a continual computer-regulated cycle.
This material compound WILL ensure a long service life.
Hot galvanized material and the supportive polyester primer coating provides the finest protection available against the detrimental effects of weathering. The additional embossment of the surface makes the door sections substantially less susceptible with a smooth surface to damage, weathering and wear and tear.
The surface is primer coated inside and outside in an off-white (based on RAL9002). Other colours to RAL on request.

Hormann SPU F42 Door Style Configurations

Door version without glazing

With glazing aluminium frame

With compound window type D

Door section heights:
375mm
500mm
625mm
750mm

Frame height:
500mm
625mm
750mm
Model N with narrow and model B with wide window sections

Window size:
602 x 132mm
For door section heights:
625mm
750mm

With compound window type A

With compound window type E

Wicket Door

Window size:
635mm x 245mm
For door section heights:
625mm
750mm

Window size:
725mm x 370mm
For door section heights:
625mm
750mm

Doors with wicket door and without
trip-free threshold are available
from widths of 7000mm.
Technical Data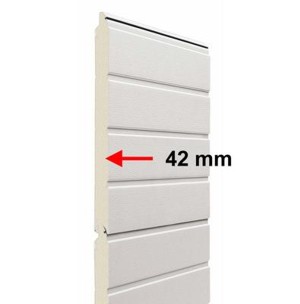 Summary
Size Range
Width up to 8000mm
Height up to 7000mm
Resistance to wind pressure
Class 31
Water-tightness
Class 32
Air permeability
Class 2 (with wicket door class 1)3
Sound Insulation
R = 22 dB4
Thermal insulation to EN 13241, annex B EN 12428
U = 1.0W/m²K*
(with wicket door U = 1.2W/m²K, Section U = 0.5W/m²K)
*The values refer to a door area of approximately 25m²

1 EN 12424 2 EN 12425 3 EN 12426 4 EN 717-1
Hörmann SPU F42 double-skinned insulated sectional door.
Performance:
Doors to comply with EN 13241-1 (requirements for safety in use of power operated doors) with 3rd party certificationby recognized testing authority.
Wind pressure to EN 12424: Class 3. Doors to achieve higher wind classes are available on request.
Water tightness EN 12425: Class 3.
Air Permeability BS EN 12426: Class 2.
EN 717-1 Sound insulation R= 22dB.
Thermal insulation to EN13241, annex B EN 12428: Section U = 0.5 W/m²K.
U = 1.0 W/m²K – (value based on installed door up to 25m²).
Manual opening force <260 N - Closing force <400 N.
Prevention of persons being lifted (dead-man's control or torque limit on impulse control).
Operator with self-holding gears to hold door in the event of cable or spring failure (Anti-drop safeguard).
CE marked with manufacturer's declaration of conformity.
Tracks: Galvanised steel track system with side frames shaped as hand guards.
Arrangement: Normal lift – Ref: N as standard
Door Panel: Double-skinned galvanised steel with HCFC-CFC free polyurethane rigid foam sandwich core, door panel with finger trap protection to panel joint inside and out.
S-ribbed: Stucco-textured inside and outside vertically ribbed at 125mm increments.
L-ribbed: Micrograin outside, stucco-textured inside. NEW

Panel depth: 750 / 625mm up to 6000mm wide.
S-ribbed: Polyester stucco embossed coating on both sides.
L-ribbed: Fine lines with a smooth surface. NEW

Internal colour: Off White - RAL 9002.
Standard external colours: White - RAL 9016 / Pure White - RAL 9010 / Grey Aluminium - RAL 9007 / White Aluminium - RAL 9006 /
Grey White - RAL 9002 / Terra Brown - RAL 8028 / Anthracite Grey - RAL 7016 / Moss Green - RAL 6005 / Leaf Green - RAL 6002 / Gentian Blue - RAL 5010 / Azure Blue - RAL 5009 / Ultramarine Blue - RAL 5002 / Fire Red - RAL 3000 / Rape Yellow - RAL 1021 / Poppy red / Goosewing Grey / Merlin Grey / Olive Green/ Sapphire Blue RAL5003.

Standard Options
Vision: Type A: DURATEC scratch resistant coating, acrylic double glazed 26mmclear vision panels (635mm wide x 245mm high) with black synthetic frame.
Power operation: 400v 3 phase operator with emergency hand chain operation in case of power failure, with automatic reset. (220v 1 phase as above available as option for doors up to max 4500mm wide and 4500mm high)
Control: A 435 Pre-wired control unit. Impulse control including Opto-sensor self-monitoring bottom safety edge.
Omission of closing edge safety device with dead man control.
Manual operation: Rope pulley hoist or chain hoist.
Ironmongery: Security anti-lift device (standard on electric doors only).
Shoot bolt (standard on manual doors) complete with electrical interlock switch, operation side.
Other requirements: Wicket Door without threshold (trip free). Outward opening inset wicket personnel door (position dependent on door width) complete with profile cylinder mortise lock, black plastic lever handle set, door closer and electrical interlock switch.