Decotherm Roller Shutter Install at Railway Workshop
Despite these difficult times, our group of companies has been working hard to amend all procedures, enabling us to adhere to all guidelines that allow us to do our job.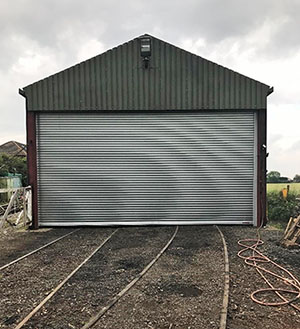 Recently, the expert team at Samson Industrial Doors Limited has supplied and installed this prestige roller shutter - the Hormann Decotherm DD. This particular application measures at 8500mm wide x 4700mm high, and was specified by our team due to its suitability being fitted for a railway workshop.
Hormann Decotherm Features
This innovative roller door system offers fast-speed operation, high durability and strength that is perfect for various industrial environments, and will certainly offer effective use for this application.
The impressive manufacturing of the lath makes for superior levels of insulation among roller doors, and in turn offers excellent durability and stability. Of course, the insulation is convenient for workers when in the workshop space, whilst the stability is important during frequent, everyday use. Plus, the motor drive offers quick, reliable and quiet operation due to the soft stop and start technology.
New Way of Working
Installations like this are now possible due to the strict, new measures our workforce has in place. Whilst much of the country has been locked down, many essential businesses have remained in operation, and have therefore required our services. With additional hygiene and social distancing measures in place here at Samson, we have been working hard to carry out our job.
If you require an industrial security product or door, please don't hesitate to give us a call on 01933 448850.
Find out more about the Hormann Decotherm DD Roller Shutter >