Launched at the Bau Exhibition in Germany and also shown recently at the Birmingham Homebuilding and Renovation show the brand new range of 'Duragrain' high quality finishes created something of a stir.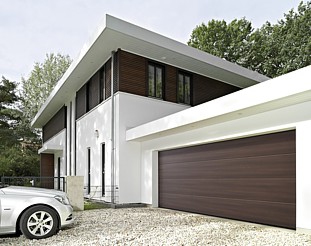 The innovative new printed Duragrain finish from Hörmann offers 24 new décor options for the LPU 40 range of sectional doors with M or L ribbed designs.
The new printed finish uses a protective exterior paint to provide an ultra scratch-resistant surface finish.
The new process offers both a wider range of wood effect appearances as well as new options such as "Concrete" or "Rusty Steel." These new finishes further add to the extensive design choices already available from Hörmann and the extensive sectional door range.
The brand new state of the art digital processing plant has been installed and tested in Germany and the new finishes are due to be ready into the UK market sometime in May 2013.
Call us now for further details on this or any of the Hormann domestic or industrial door ranges on
01933 274276

See more about Hormann Sectional Garage Doors >