Hörmann achieves Secured by Design status on industrial sectional doors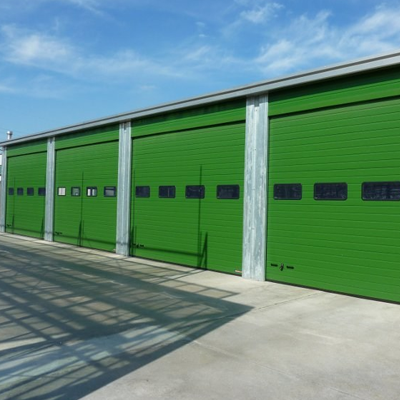 Leading door manufacturer, Hörmann UK, is pleased to announce that its industrial sectional doors, the SPU F42 and the SPU 67 Thermo, have been awarded the Secured By Design (SBD) accreditation.
In order to achieve SBD status, the SPU F42 and the SPU 67 Thermo were tested against a set of key security standards to ensure optimum safety requirements were met, this includes issues surrounding current trends in crime. Following these tests, the SBD label established both the SPU F42 and the SPU 67 Thermo industrial doors as highly secure options for commercial buildings.
Commenting on the recently achieved SBD status, David O'Mara, marketing manager at Hörmann UK, said: "We are delighted to have both the SPU F42 and the SPU 67 Thermo industrial sectional doors recognised as Secured by Design. In order to achieve this accreditation a manual door must have an additional shoot or rotary bolt, and if automated an extra anti-lift kit.
This status gives customers extra peace of mind when it comes to choosing doors that will provide them with high levels of security and ensure that any substantial financial losses, due to the security of their doors, are avoided."
SBD is a group of national police projects that investigates the design and security for new and refurbished homes, commercial premises and car parks. The aim is to 'design out crime' through physical security and processes that reduce not only the risk of crime, but the fear of crime.