New for 2021 is the Series 60 from industry-leaders, Hormann - and this isn't just a new door, but the fastest sectional door you'll find on the market, making it exceptionally convenient as well as energy saving. A high speed door with specifications especially for an industrial environment, the Series 60 can now operate at speeds of up to 1m/s when fitted with the new WA 500 FU Operator.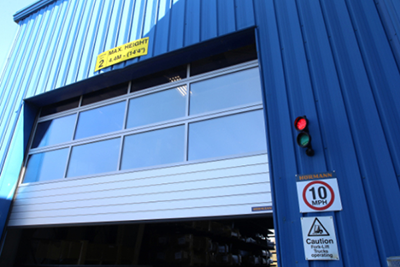 Smooth Operation & Convenience for Industry
The impressive speed of this door's operation is ideal for applications where temperature control may be vital, the environment needs to be carefully managed, or perhaps there is a frequent flow of traffic travelling through the doorway. Plus, door movement is smooth and convenient, with soft-start and soft-stop operation achieved via the operator, applicable for high-lift and vertical track applications.
Due to such high speeds, Hormann has ensured the vital requirement of stringent features to make the operation of the Series 60 safe. This is achieved with in-built security features, anti-lift kits integrated as standard, as well as RC 2 security measures also available as an option if required.
Providing great ease of use and excellent convenience as ever, the Series 60 can be controlled via various automatic methods, including from the innovative Bluetooth app that can be used from your smart device. This app also includes various useful sets of data and information, including technology that finds faults and contains diagnostic data.
Contact Samson
If you require the Series 60 or similar, take advantage of Samson's exceptional experience, bespoke surveying and installation services. Call us on 01933 445580 or click here to fill out our contact form - we'll offer our professional services to result in a door you can rely on for years to come.