Assess Your Premises with Samson Doors and SWS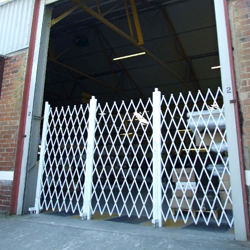 Before you consider fitting security features, carry out a full assessment of the premises. You could hire a professional security provider to survey your building if you are uncertain. You will need to identify any vulnerable areas of the premises – pay particular attention to the:
Side/back of premises
Entry points
Roof
Cellar/outbuildings
Loading bay
Most thieves will choose to enter at night when the building is vacant, so consider what the outer features of your premises will be like when it is dark – is the building adequately lit outside and are the entry points securely lockable and protected (in the case of large windows)? The roof can be a point of target for criminals too, especially a flat roof, so you'll need to ask yourself whether the roof can be easily accessed from outside.
Also, you'll want to consider where your valuable pieces of equipment and cash are stored within the premises. Taking measures to move certain equipment or valuables from sight can decrease the likelihood of a break-in or theft, minimising the attractiveness of the premises to a criminal. Where possible, it is sensible to leave as little money in your store or office overnight.
Install Security Features
Once you know where the most vulnerable areas are on the premises, you can install the necessary security features. Fit sensored or permanent lighting to the exterior of the building to deter crimes, and for added security you could fit a modern alarm system and install CCTV cameras (when using CCTV cameras, you must be aware of data-protection regulations). 'Warning' signs alerting intruders to your alarm system or CCTV can often be enough to put criminals off.
There are some practical security measures you can implement when it comes to entry points such as doors and windows. Make sure that all locks are strong and secure. Consider having shutters or grilles fitted over the main entrances and/or large windows. These will not only prevent access but also block the view into the premises, disguising any valuables.
Do Regular Spot-Checks
Even once measures have been taken, it is good practice to carry out regular spot-checks to ensure the security of your premises. Check the strength of locks for general wear and tear on a frequent basis, as well as any alarms or cameras you have had fitted.
Secure Your Business Premises
We offer a range of security products to suit your business' needs, from shutters and window bars to gates, grilles and industrial doors. Fill out our online contact form to make an enquiry, or call us directly on 01933 274 276
Businesses can often be the target of crimes, especially as office buildings and stores are usually vacant throughout the night, so it is vital to ensure the security of your premises.