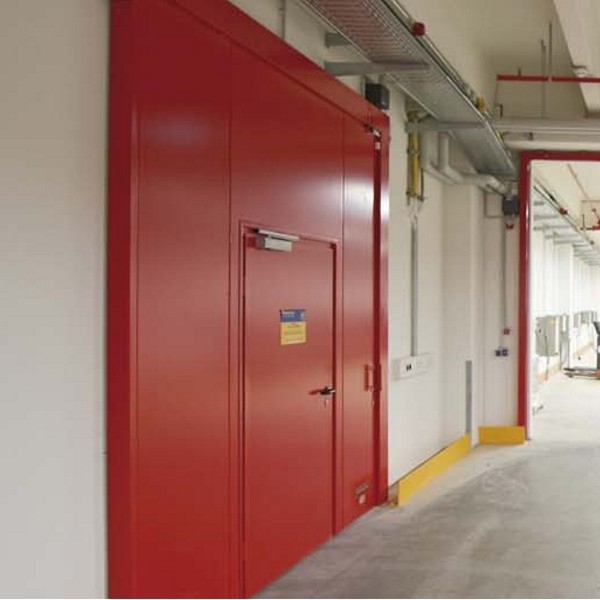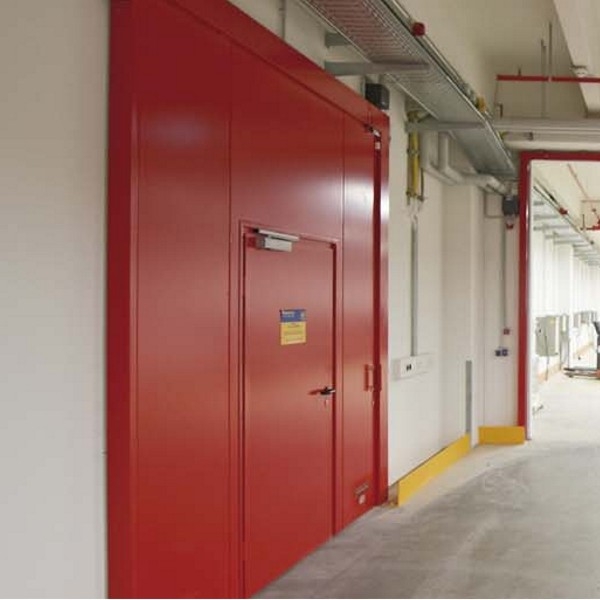 T90 Fire Sliding Door
Fire Rated Sliding Doors
Steel Sliding Door Fire Rated
Material: Steel


The Hormann T90 Fire Rated Sliding Doors are available as single or double-leaf doors. A full 90 minutes fire protection rating with insulation as well. EI ratings.

Fire-retarding doors are tested according to DIN 4102-T5 or DIN EN 1634-1 and officially approved. In fire tests, these doors must resist temperatures according to the temperature/time curve for at least 90 minutes.

The door leaves and frames are delivered galvanised and powder-coated in Grey White (similar to RAL 9002). Alternatively, the surface finishes are also available in RAL to choose.
Flush (STS) or Thick Rebated Frames (STU).

The sliding fire doors can be optionally equipped with different glazing variants. The surface-mounted standard glazing frame features invisible fittings on the hinge side. Optionally, you can also choose the fush-fitting glazing profiles for high-quality architectural demands.

The steel doors are equipped as standard with a lever/knob mortice lock and prepared for a profile cylinder in accordance with DIN 18250. With double leaf doors the fixed leaf is secured with a latch in rebate or a rebate locking bolt at the top and bottom depending on the function.

The doors are equipped with a black (polyproplene) FS round lever handle set, with round escutcheon and securely fitted lever handle as standard, in accordance with DIN 18273.

Fire Rated Sliding Doors are set to close automatically as standard. Slide rail door closer HDC 35 comes as standard for single and double leaf doors. Depending on the size, features, use or fitting style, the factory can also supply you with doors with linkage door closers, slide rail door closers with door leaf selector or concealed integrated door closers for an attractive appearance.

On fire rated doors, security bolts on the hinge side provide additional stability in the case of a fire.

Additional Functions:

Smoke-tight versions of this sliding door are tested in accordance with DIN 18095 or DIN EN 1634-3 and must be equipped with the door seal and a door closer. Another requirement is that smoke-tight doors have to be equipped with a profile cylinder (a clind cylinder can also be used). The surface edges of the frame must be permanently sealed to both sides of the building structure. Sealing may not be necessary for plastered frames.

Accoustic Rated doors are tested to DIN EN ISO 717-1.Thet are delivered with the door seal shown. The stated accoustic values are laboratory values. The values do not apply to doors with glazing, fixed top panel and fitting in gas concrete. The calculated accoustic value that can be achieved for the object is the laboratory value -5 dB.
NEED HELP?
Let us help you complete your order
Try some of our best sellers