PRODUCT SEARCH
Samson Online Shop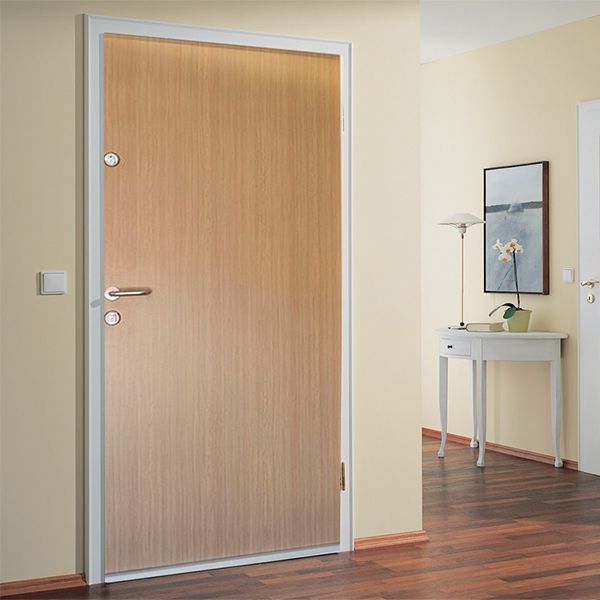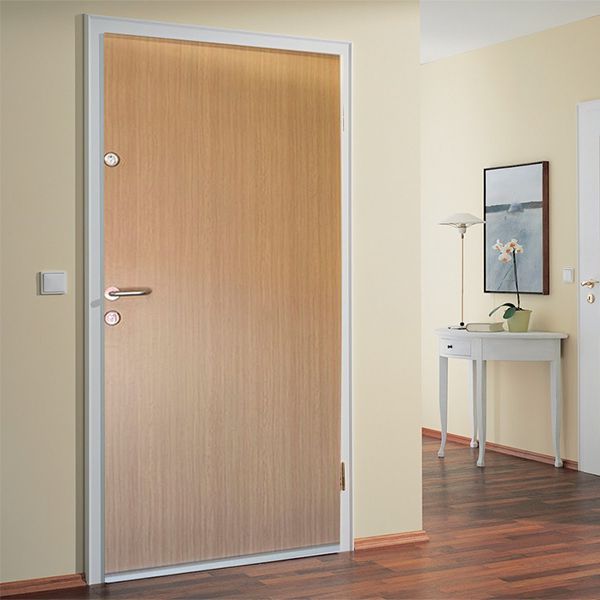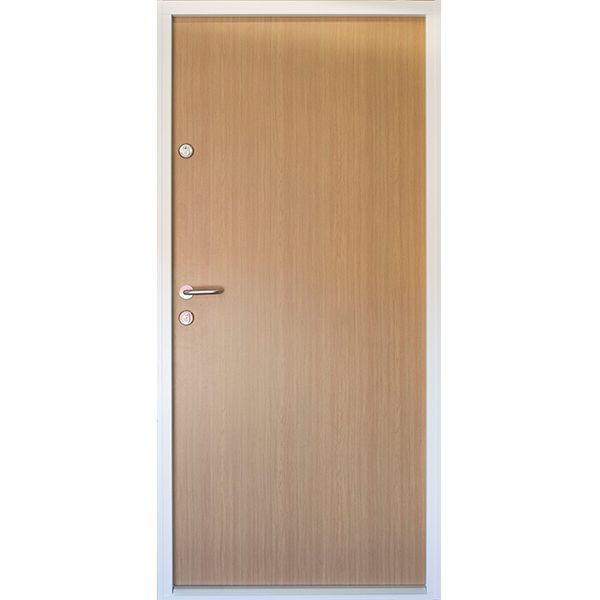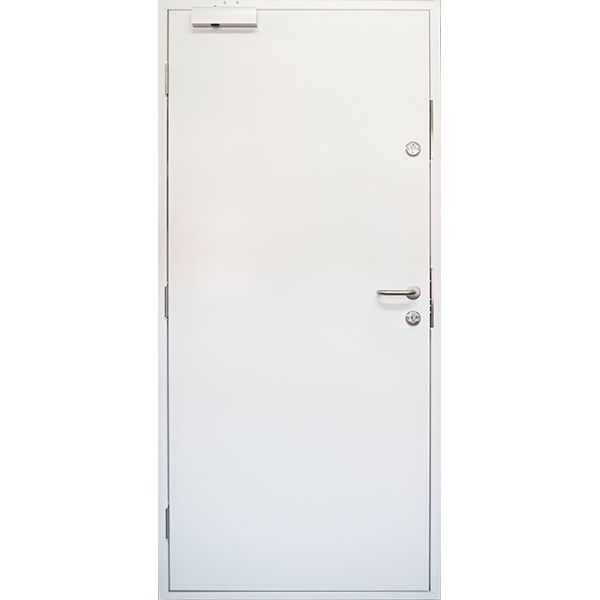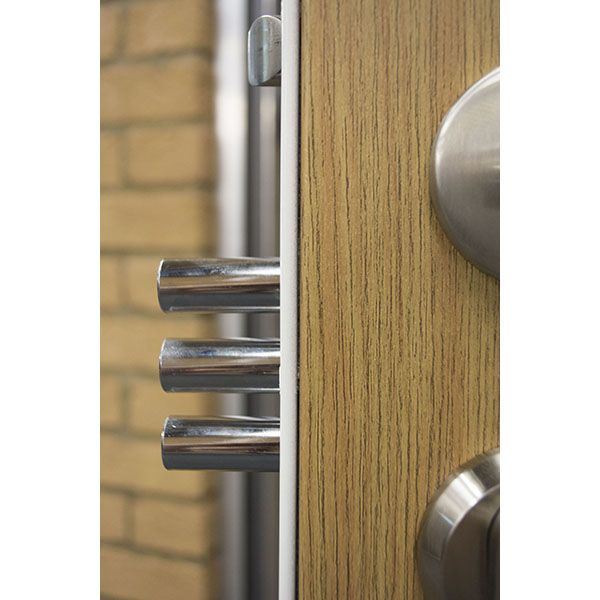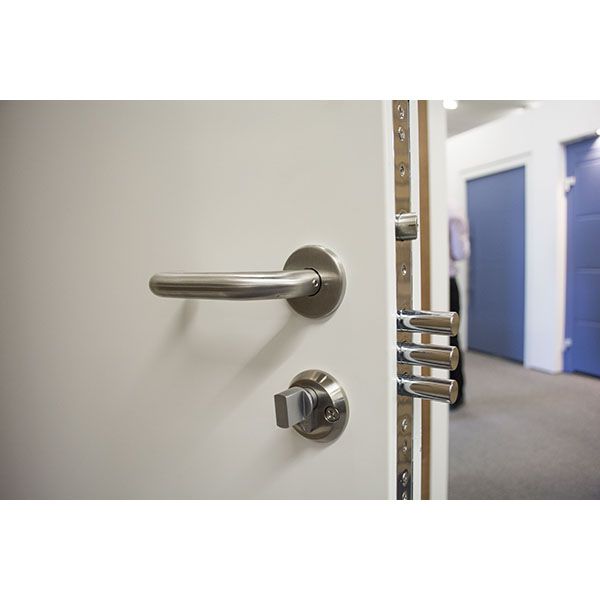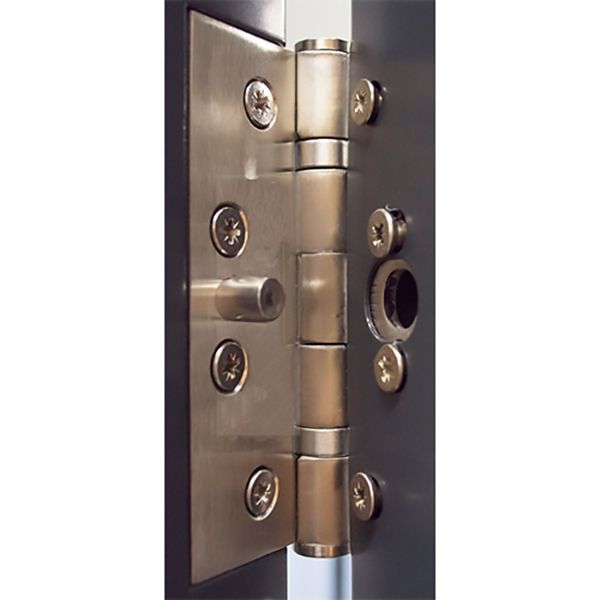 Alternatives to this product
Background Information about this Product
Related Pages
HomeGuard Fire
Fire Rated Steel Doorsets
60 min. Fire Rated Internal Steel Doorset (Purpose Made Sizes)
Material: Steel
Gear Type: Hinged Doors


Web Price: £798.00
(Excluding VAT and £957.60 Inc. VAT)
Description

Specification

Installation

Warranty

Measure
Description

The Home Guard is a security steel doorset designed to provide a one hour certified fire protection and is for use between your integral garage and main house. It has far higher levels of security than any other comparable door with multi point locking and a holiday locking mode, providing a second set of security bolts on a different cylinder.
The door is purpose made in sizing as standard for a perfect fit and available in almost any colour with one side different from the other if required as one side will be inside your home and the other facing into your garage.

High quality stainless steel lever handles are fitted as standard and various thresholds are available depending on the floor details.
Specification
1 hour Fire Rated steel door set for internal use with a higher security specification for protecting your home.
Designed for entrances into your home from an integral garage or outside covered area.
55mm thick steel hinged door set with factory fitted 4 sided steel frame.
The GarageGuard standard doorset available to buy online offers the following as standard:
• Made to order size up to 1085mm wide x 2195mm high
• Flat smooth panel finish both sides, astragal to hinged side of panel for security
• Choice of 50 standard colours from PPC range (see PDF)
• Panel infill mineral wool - 1.8 W/m2K
• Frame Type C - 95mm deep with single rebate and adjustable outer frame extensions +/- 15mm for each side.
• Threshold 15mm rebated aluminium
• Smoke seals included.
• 19mm round bar stainless steel lever handles to both sides
• Hooply multipoint sashlock with Securefast 1 star 80mm (40/40) euro double cylinder nickel finish and Securefast
TS007 tested 2 star euro profile security escutcheon
• Geeze Boxer door closer - built in closer for fire regulation compliance


---
Optional Specifications and Extras Available - Price on Application
> Made to Measure sizes as standard up to 1290mm W x 200mm H (Double door sets up to 2600mm W)— Perfect fit every time.
> Steel sub frame constructed from 1.6mm Magnelis steel with fully adjustable outer frame section to accommodate uneven openings up to +/- 30mm
Optioanl sizes available and bespoke to suit any opening.
> Optional infill available to provide U values to between 3.1 and 1.8 (w/m2k)
> 50 standard colours and woodgrain laminate options. Any RAL or BS colour available.
> Stainless steel lever/lever handles as standard with double euro profile cylinder locking. Available for customers own hardware if required
> Hooply multipoint sashlock as main locking method with Securefast TS007 1 star 80mm euro key and thumbturn for internal side.
> Hooply multipoint deadlock set for secondary locking (holiday mode) in upper or lower section of door panel, or both
> 15mm standard rebated threshold with 3 other options available and bespoke sizes
> Window options available in many shapes and sizes - double glazed
Sizes and Frames:
600mm - 1350mm wide
1860mm - 2800mm high
95mm single rebate C frame
Material: Magnelis ® 1.2mm skins, 1.5mm frames
4 stainless steel dog bolt hinges
15mm standard threshold
Side & Overpanels
Hardware available:
Arrone DIN standard lock, 65mm backset
HOOPLY Euro profile security lock, 60mm backset
EXIDOR/BRITON 200 series panic hardware
Zero Z105Z friction stay
250mm cavity plates
Spy hole
Letter box

Colour Options:
The Samson HomeGuard doors are available polyester powder coated as standard in one of 50 colours. Alternatively, doors can be polyester powder coated in any BS or RAL colour (extra charge).
The range of attractive woodgrain PVC laminates combine the traditional look of timber with the modern durability of steel, and have been tested to BS EN 14351-1 product compliant standard.
The HomeGuard doors are also available in stainless steel, with brushed, polished and patterned finishes available. Alternatively, our internal doors are available unfinished for site finishing.
Installation
Every door is delivered factory assembled with hinges, sub frame, locking and threshold all installed and ready for the easiest and fastest on site installation.

Included as standard:
Full fitting kit with 11mm allen key for frame adjustments
Pot of touch up paint
Tube of clear mastic for use under the threshold
Selection of drill pieces for fitting into concrete or steel
Self cutting frame fixings and spare hinge screws

All locks and hardware are already fitted in the factory with only the protruding parts supplied loose for on site fitting
Warranty
Warranty
Doors manufactured from a base material of Magnelis carry a 10 year anti corrosion warranty in locations classed as C1-C3. Locations classed as C4 or C5 would carry a 5 years and 3 years warranty respectively.
Anti corrosion warranty applies to door carcass only unless Samson Doors are informed prior to manufacture and additional protection offered for components not available in Magnelis. i.e. vision panels, louvre panels.
Doors manufactured in Aluzinc would carry a 12 month anti corrosion warranty unless enhanced PPC finish is applied.
All doors carry a 12 month warranty against manufacturing defects.
All warranties subject to site maintenance being performed at regular intervals as outlined in the project O&M manual.
Measure
Samson Steel doorsets are ordered by the overall outer sub frame width and height measured in millimetres. This is the door leaf and steel fixing sub frame combined as they are delivered as one unit ready to install.
The HomeGuard door has an adjustable outer frame C section to adjust the frame by up to 15mm either side for the width which accomodates out of level structural openings.
Measure your opening in several places from top to bottom and from left to right and find the smallest dimension, also check if the opening is square.
Consider your threshold carefully as we can provide many options apart from the standard 15mm aluminium threshold
We can confirm your order with a drawing to demonstrate the exact dimensions and specification for review.