With existing fire-rated and smoke-tight door models available in the FST range, these high quality doors are now approved as British Standard.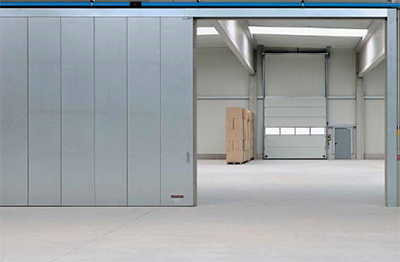 FST Side Sliding Door Range
The FST range consists of side sliding door systems, ideal for applications such as factories, warehouses, garages and warehouses. Constructed by reputable and industry-leading manufacturers Hormann, the FST doors utilise the very best of German engineering to the highest standards.
The two British Standard doors available are the FST 120-1 BS and FST 240-1 BS, offering 120 minutes and 240 minutes of fire protection respectively. Both models are available in sizes up to 4991mm x 4500mm.
Like all our products, the FST sliding doors are entirely bespoke to ensure a perfect fit for every application, ensuring the ratings are met and enhanced. The side sliding mechanism is often a popular choice for such environments due to the large sizes available and easy operation in industrial builds.
Plus, the FST doors are available in a choice of seven preferred colours (below) to suit the building's surroundings, with other colours available upon request:
| | | | |
| --- | --- | --- | --- |
| Anthracite Grey RAL 9016 | White Aluminium | Traffic White RAL 9016 | Pure White 9010 |
| Grey Aluminium RAL 9007 | Flame Red 3000 | Grey White RAL 7016 | |
Optional Extras Include:
- Hold-open device
- Impact absorber profile guard, anti-collision board
- Optical/ acoustic alarm system FSA-OAW
More Information...
These doors are available to order now!
Give us a call on 01933 448850 to speak to a member of our expert team at Samson to book in for a survey at your premises, or with any enquiries about the FST range.