Hormann Rollmatic - Now Even Better Value!
Hörmann has taken the roller garage door to a new level with the introduction of the space saving RollMatic which was given the thumbs up by specialist garage door companies from across the UK at the recent U.K. product launch.
Now as an even bigger incentive the prices have been lowered across the whole size range!!!

Unlike up and over doors, no extra space is needed in the driveway to allow opening and closing of the door, and unlike a sectional door, only limited space is required inside the garage to accommodate the roller. Typically Hörmann has used its engineering expertise to deliver a superior product by ensuring its inherent quality is matched by innovative features, like its spring assisted curtain which uses 'Z' type springs, which ensures smooth and quiet operation. In the event of power failure manual operation is also easy and safe and there is no need to use a cumbersome crank handle as the springs allow easy and light movement with the ability to be able to lock the roller safely at any stage.
See our Feature on the Rollmatic >

As well as the new features the RollMatic is equipped with Hörmann's popular proven electric operator as standard, which is conveniently fitted outside of the barrel and features a soft start and stop safety function which eliminates the need for a safety edge. The Rollmatic is easy to load and in typical Hörmann style the RollMatic has been engineered to be safer, quieter than many other roller doors, and it is backed up by Hörmann's 10-year guarantee (5 year guarantee for operators).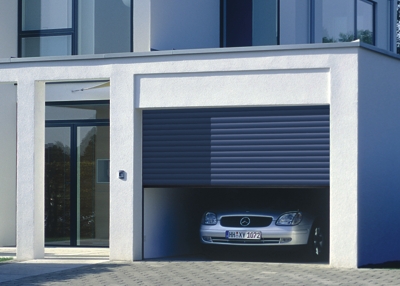 Call Samson Doors now free on
(0800) 328 6250

or email for prices.