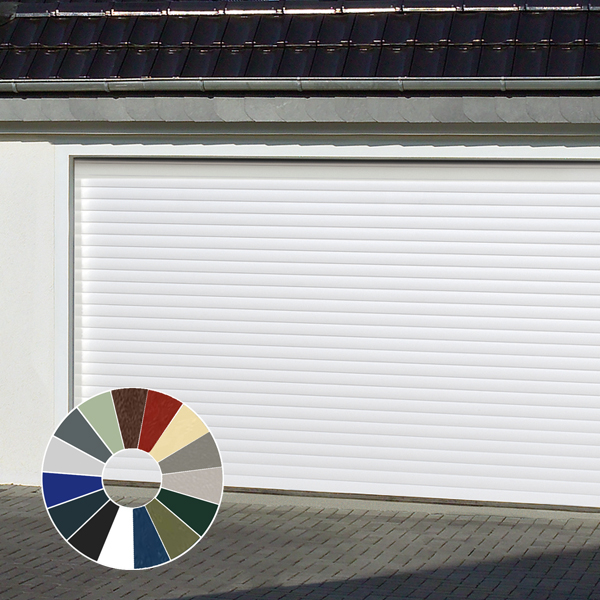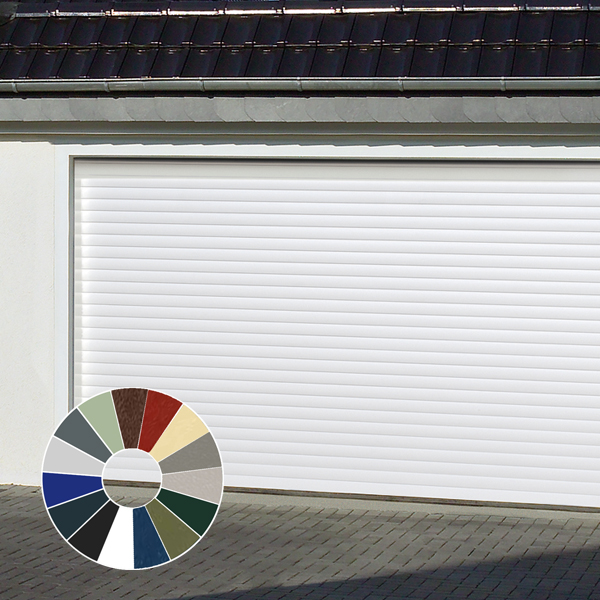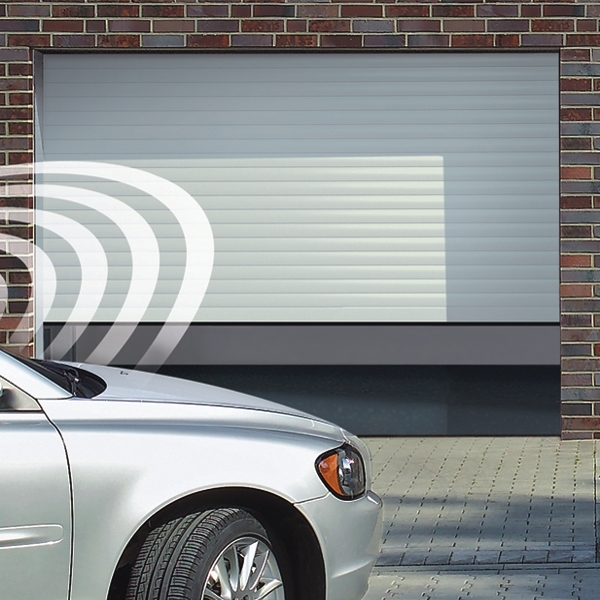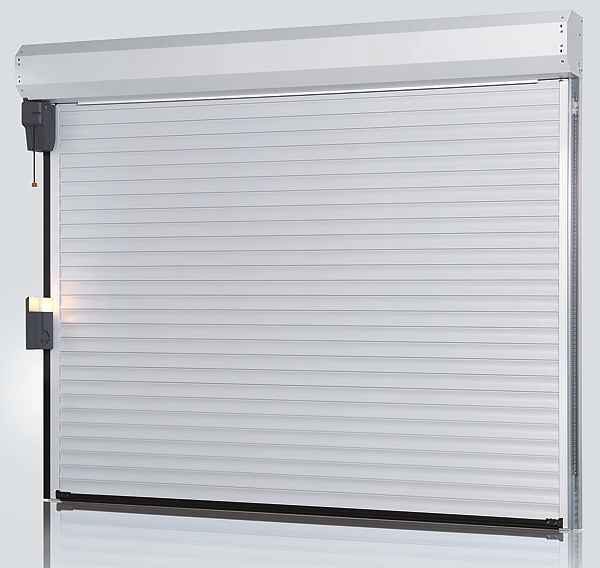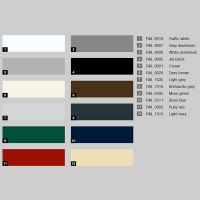 Rollmatic - Purpose Made Sizes up to 6000mm Wide
Insulated Roller Garage Doors
16 Colour Options
Material: Aluminium


(Excluding VAT and £1,542.00 Inc. VAT)
(Excluding VAT and £
1,542.00
Inc. VAT)
NEED HELP?
Let us help you complete your order
Description

Application

Specification

Installation

Warranty

Measure

Videos
Description
The new Rollmatic insulated electric aluminium roller garage door from Hormann is a revolution in roller doors as it operates very much in principal like a sectional garage door. The balance of the door curtain weight is achieved by a vertically mounted tension spring to one side with a motor driving the curtain barrel on the other. It is simple, safe and very smooth with the easiest of manual override systems for this type of roller shutter. Complicated and often troublesome light curtains and safety sensors are not required on this door as the motor itself senses any resistance to provide the safety.

The Hormann Rollmatic is an aluminium roller shutter garage door constructed from the very highest quality double skinned aluminium foam filled slats to produce a very strong, smooth finish curtain that is always purpose made to suit the garage opening perfectly. It is remote control electric operated as standard with control of the door using any of the enormous range of current Hormann control accessories. Standard operation is with 2 remote control handsets and an internal pushbutton on the control panel with integrated light.

Standard specification includes:
> 2 hand held transmitters (1 HSM4 mini and 1 HSE 2 micro)
> Impulse remote control with integrated lighting in the control housing box.
> Automatic safety cut out with obstacle detection
> Soft start and soft stop operation.
> Emergency internal release in case of power failure
> Fully enclosed hood and fascia colour matched to the curtain colour.
> Colour matched guides for ALL doors including Decograin finishes.
> Mechanical security kit for prevention of vertical forced entry.
> Storm anchors on curtain to provide large wind loads on curtain and increase security from lateral forced entry.
> Motor position is on Left Hand Side when inside garage looking out.
This roller door is for installation to the inside face of your garage or inbetween the aperture only. We do not recommend the Rollmatic for an external face fit situation. Please look at the Seceuroglide range for this installation situation.
When installing the Rollmatic INBETWEEN any opening please be aware the ordering dimensions are taken as inbetween the guides and guide hight. You must allow for the relevant guide size and the hood cover in your calculations before placing the order.
Optional Extras:
> Emergency exterior manual release if no other entrance is available
> Accoustic alarm if attempted forced entry occurs
> Emergency battery power supply for 5 cycles in 18 hour cycle. Recharging is permanent during normal operation
> Compensation Kit (fitted as standard) - to accommodate for unevenness on the building structure when fitting behind the opening.

All the Hormann control accessories for garage doors and gates can also be added if required to the Hormann Rollmatic giving total flexibility on how you specify and operate the door.
Application
Domestic and low use commercial openings.

Higher than standard wind ratings:
Up to 3500mm wide Class 5
Up to 4500mm wide Class 4
Up to 5000mm wide Class 3


Specification
Max width (opening width) 5000mm
Max height (opening height) 3000mm

Ordering sizes are different to most other roller doors as the sizes for ordering refer to the opening size (not the size including guides) on the width and height.
The guides are all 110mm wide each side whatever the size door and the headroom required for the roll and hood enclosure is 290mm up to 2300mm high and 335mm on doors from 2301mm high up to the maximum of 3000mm.

Example: Installing a Hormann Rollmatic to the inside face of a structural opening of 2280mm wide and 2150mm high (underneath lintel) you will have a door with an overguide width of 2480mm and a total height with the hood enclosure of 2440mm.
Surface coating
Interior and exterior of door curtain:
• Standard colours based on the RAL colour chart:
RAL 9016 Traffic white
RAL 1015 Light ivory
RAL 3003 Ruby red
RAL 3004 Purple red
RAL 5011 Steel blue
RAL 6005 Moss green
RAL 7015 Slate grey
RAL 7016 Anthracite grey
RAL 7035 Light grey
RAL 8028 Terra brown
RAL 9001 Cream
RAL 9005 Jet black
RAL 9006 White aluminium
RAL 9007 Grey aluminium
Chartwell Green
Noir 2100 Sable


For further information on the Hormann Rollmatic Roller garage doors, click here >
Installation
Full installation details provided with every door
Warranty
10 year guarantee

Measure
Please Note: From 30th November 2015, the guide size has changed from 100mm to 110mm.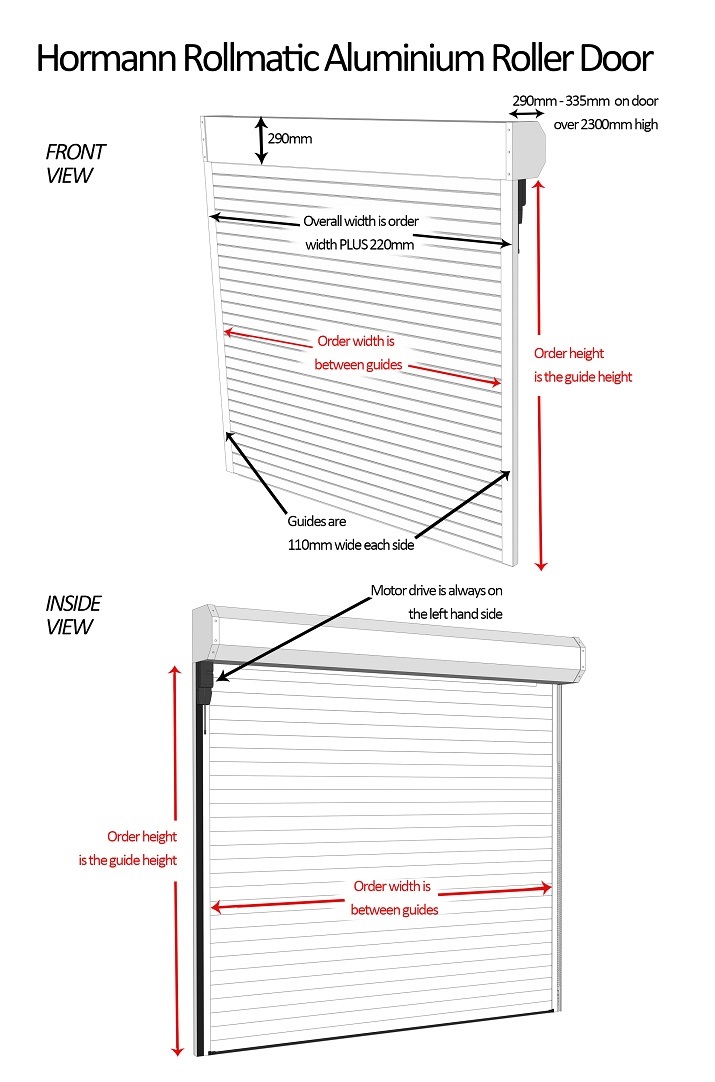 Video
Try some of our best sellers