PRODUCT SEARCH
Samson Online Shop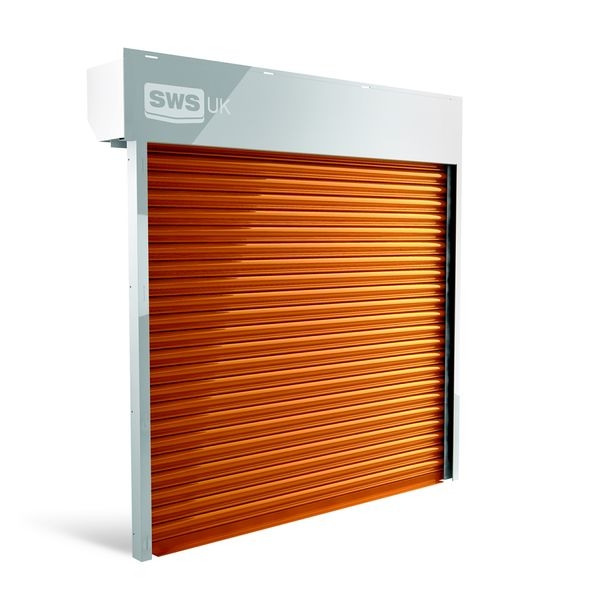 Background Information about this Product
SeceuroFire
Fire Roller Doors & Curtains
Fire Rated Roller Shutter
Material: Steel
Gear Type: Roller Shutter


The SeceuroFire Flame Shutter is an electrically operated vertical fire shutter consisting of a steel slatted curtain and galvanised steel box assembly and guide rails. The box, curtain, guide rails and bottom rail can be powdercoated as an optional extra.
The product is designed to be a security barrier during normal use and to be closed automatically during a test or emergency situation. In the event of receiving a fire alarm signal the barrier will perform a powered descent to create a fire resistant barrier. In the event of power failure Flame Shutter will close using the battery backup feature.
Flame Shutters design allows for both face or reveal installations.
The fire resistance performance of shutters to BS 476: Part 22: 1987.~
The fire resistance performance of shutters to BS EN 1634-1: 2008.
The product was tested and approved by Exova Warringtonfire, report no. 312862
Product performance
This product is uniquely capable of providing specifiers with a choice of Flame Shutter 60,
120, or 240 minutes integrity performance in accordance with the standards mentioned above.
Size limitations
Minimum width: 800 mm Minimum height: 800 mm
Maximum width: 7000 mm Maximum height: 4600 mm
Sizes can vary according to integrity rating and larger sizes require a hood support bracket.
Curtain
A single skin 75 mm scrolled or 50 mm flat galvanised steel slat.

Weight: 50 mm flat slat 10 kg/m2.
75 mm scrolled slat 10 – 16.5 kg/m2 dependent upon the size of the curtain and integrity rating.
This product is available galvanised as standard or powdercoated to RAL or BS colour at extra cost.
Bottom rail
'T' sectioned steel bottom slat 49 mm high x 74 mm deep.
Guide rails
3 mm thick galvanised steel channels 50 mm or 65 mm deep, depending upon shutter width mounted on steel angles for fixing. Available for face or reveal installation.
Shutter Box
Galvanised steel endplates welded to the top of the guide assembly, in a flag arrangement with a two piece box assembly. Boxes are supplied in sleeved sections to allow for expansion in 250 mm, 300 mm and 350 mm sizes depending upon shutter height.
Axles
101.6 mm (1.6 mm), 101.6 mm (3.2 mm) 5", 5½" or 6 5/8" round steel barrels are used depending on the products size.
Finish
Galvanised as standard or powder coated to RAL or BS colour at extra cost.

Motor & control options
The fire curtain is powered using a 240 V AC tubular motor which is supplied as standard with a 2.5 m 4 core cable.
The standard Flame Shutter Control options are:
FS control panel with separate battery backup
Fire alarm interface relay with separate battery back up
Optional extras:
Localised sensors such as smoke and heat detectors, a range of audio visual devices and emergency retract switches can be connected to the panels using a 24 V DC supply from the panel.
Key switch
Manual override
Installation
Face or reveal fit to masonry, concrete or fire protected steel with at least the fire resistance of the period required.

Warranty
The operation of the fire curtain along with the finish of the curtain, guide rails and box is guaranteed for a period of 12 months. The tubular motor is guaranteed for a period of 2 years against faulty materials and workmanship.

Enquire