SRD77 Electric Button Control with No Hood - Purpose Made Sizes up to 3000mm Wide
Insulated Roller Garage Doors
15 Premium Colours
Material: Aluminium


(Excluding VAT and £652.80 Inc. VAT)
(Excluding VAT and £
652.80
Inc. VAT)
NEED HELP?
Let us help you complete your order
Description

Specification

Installation

Warranty

Measure
Description
Introducing a straightforward electric, double skinned, insulated aluminium roller garage door for those who don't necessarily need remote controls or high-specification features. This garage door is perfect for single-width garages, utilising high-quality 77mm double-skinned insulated curtain sections.
Available in 15 premium colours. Purpose made to the millimetre in width and height for your perfect fit.
The door is powered by a single-phase 240V tube motor and comes with an internal wall-mounted rocker switch as standard featuring easy-to-use 'Up' and 'Down' buttons, as standard. To operate the door, simply hold the relevant section for the duration of the movement, eliminating the need for beams or safety edge sensor systems. This design ensures compliance, simplicity, and ease of installation, reliability and setup.

Upgrade with a wall mounted control panel and external key switch for control from inside and outside your garage.

Remote Control Option
If you're looking for a more automated system simply upgrade to the wall mounted Teleco remote control unit for an internal control station with impulse control buttons and two hand transmitters for remote opening as well as an optical safety edge built into the curtain to combine convenience with safety law compliance.

The wall mounted remote control unit comes complete with a built in courtesy light and push button controls for controlling the door from inside the garage without the remote handsets. The standard unit has a hard wired bottom edge safety detection system so there is no need to ever change the batteries in the bottom sensor.

Choose this uncomplicated electric aluminium roller garage door when you want a reliable and efficient solution without the added complexity of advanced features.
2 year warranty as standard.
Specification
Standard Specification and Features:

* Made to measure sizes as standard
* Internal rocker switch as standard basic operation method, not requiring any safety edge detection system
* 2 year warranty as standard
* 77mm slat height in double skin aluminium foam filled construction
* Curtain slat depth 18mm
* Guide width 70mm
* 300mm endplate and roll cover size
* Internal emergency manual override

Options:
* 2 remote hand sets and wall mounted control panel with built in light and button controls
* Wall mounted control panel for internal use - hold to run with external key switch control
* External low level emergency manual override
Premium Colours:


Brown RAL 8014
Chartwell Green
Navy Blue RAL 5011
Burgundy RAL 3004
Light Beige BS 08B17
Fir Green RAL 6009
Ivory RAL 1015
Agate Grey RAL 7038
Silver Metallic RAL 9006
Dark Brown RAL 8019
Moss Green RAL 6005
Cream White RAL 9011
Graphite
Slate Grey RAL 7015
Duck Egg Blue
Installation
Installation details provided with the door.
Please note: upon delivery, the accessory box will include a QR code to direct you to the most up-to-date installation instructions.
Warranty
2 year warranty as standard.
Measure
Ordering Sizes are the Over Guide Width (OGW) x Guide Height (GH).
Doors have 70mm wide guides either side for doors up to 3000mm wide
Clear Opening Width - Ordering Size - 140mm*
* These measurements are correct for behind fit installations, please contact us for guidance inbetween fit installations.
Clear Opening Height = Guide Height - 50mm (to allow for the bottom slat hand-down into the guide). The 300mm endplates incorporating the motor and barrel are to be added onto the guide height to give your total height required (Overall Height)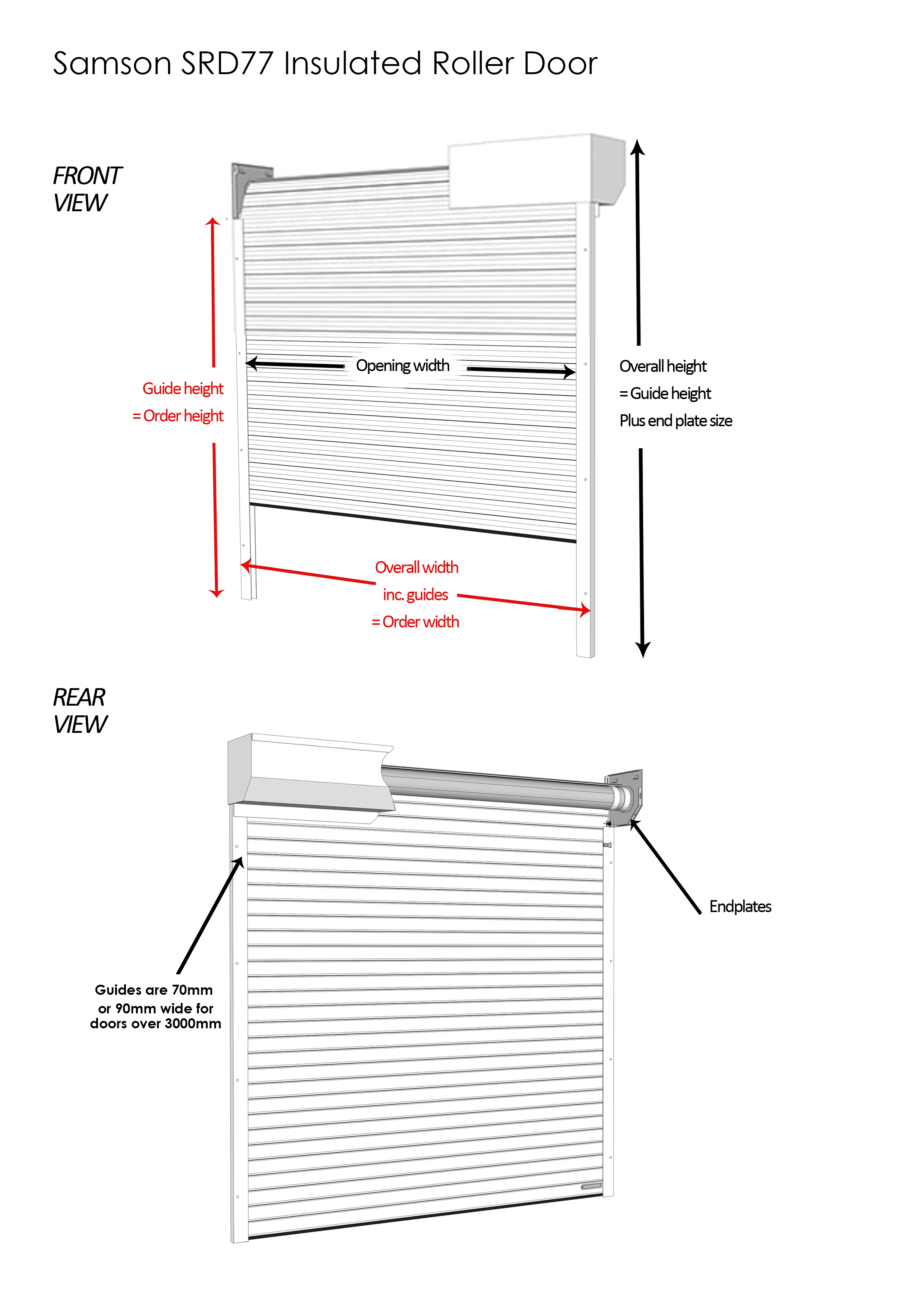 Try some of our best sellers